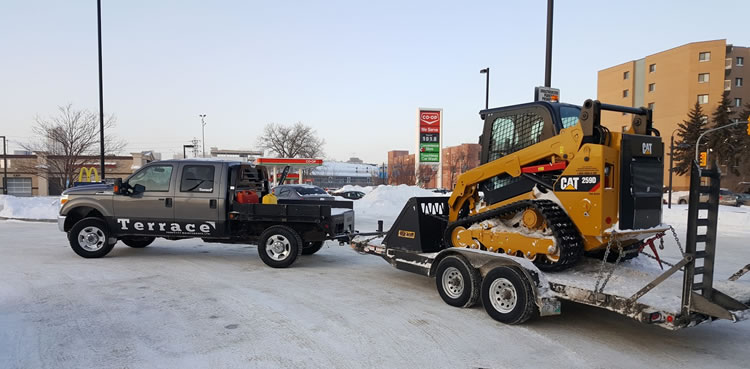 One Of Our Terrace Trucks & Skid Steers Ready To Tackle Snow./caption]
Snow Removal and Snow Plowing Transcona MB
For Both Residential and Commercial Clients
Are you searching for a reliable snow plowing or snow removal service in the Transcona area?  Terrace Snow Removal is a local Winnipeg company that specializes in handling the white stuff so you don't have too!  During the snowy winter months you'll see our trucks and crews working 24/7 to plow driveways, plow parking areas and parking lots, shovel sidewalks, snow removal and more.
Snow Plowing Services Transcona MB
Our snow plowing services are for both residential and commercial clients.   We offer a monthly contract for our clients during the busy snow season from November 1st to March 31st.  Our contract snow services include plowing and clearing snow away from entrances and walkways.  We'll visit your property as many times as we need, or whenever the snow accumulation reaches 2cm or more.
Snow Removal Services Transcona MB
Plowing the snow off to the side or to an unused area of the property doesn't work for all of our customers.  Many of our clients both residential and commercial need to have the snow removed and hauled away to be disposed of.  Our snow removal services run around the clock using truck mounted plows, skid-steers and our heavy-duty dump trailers we can keep the snow accumulation on your property under control.
Commercial Snow Services in Transcona, MB
Commercial properties are a little more involved than snow plowing or removal for a residential property.  Dealing with busy parking lots and working around the general public can be challenging.  Terrace Snow Removal has experienced snow removal crews that are well versed in the specific needs of our commercial clients.  We offer snow plowing, sidewalk clearing, snow removal, salting services and de-icing services.  Our commercial crews are available for emergency snow removal or regular monthly contracts.
Equipment We Use To Clear Snow in Transcona
Terrace Snow Removal uses a variety of new and well maintained equipment to tame the snow on your property including:
Truck mounted plows (2)
Skid-Steers (2)
Dump Trailers 15-24 Yard Capacity (3)
Snow Blowers, Air Blowers and Shovels
Why Choose Terrace Snow Removal For Your Snow Clearing Needs in Transcona, MB?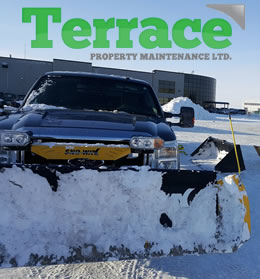 When you choose Terrace Snow Removal to provide your snow plowing and/or snow removal services in Winnipeg you are partnering with a team of professionals who will care for and maintain your property as if it were our own.
You can count on great communication, safe and reliable service around the clock, and fair prices.  We are licensed, insured and our staff are well trained on the safe operation of our equipment.
Our team takes great pride in the work we do and we listen to the needs of each and every customer as no two properties are alike and we want to make sure you are happy with our services!
If you'd like to receive an estimate for Snow Removal or Plowing Services please give us a call (204) 202-3444 or send us an email through our contact form and we'll get right back to you.