Snow Plowing , Snow Clearing, And Snow Removal Services In Winnipeg, MB
Terrace Snow Removal is a division of Terrace Property Maintenance Ltd. and specializes in snow plowing and snow removal services for residential and commercial property owners throughout Winnipeg.
Based in central Winnipeg our snow removal crews and equipment can spring into action quickly when the snow begins to fall and we are available on a monthly contract basis or "on-call" if that's how you prefer.
We are licensed, insured and well-trained on safety and how to deal with the unique challenges of handling large amounts of snow in busy residential and commercial areas. Whether you need your driveway way cleared and the snow hauled away, an access road cleared or a commercial parking lot safely cleared, our team will be able to provide you with reliable snow removal solutions.
If you'd like to schedule an estimate for snow removal or just book our crews right now please call (204) 202-3444 or fill out our online form and we'll get right back to you.
Commercial Snow Removal
Removing snow from parking lots, keeping sidewalks safe and clear, plowing driveways and access roads and more.  If you need Commercial Snow Removal - We're Here!
Why Choose Terrace Snow Removal For Your Snow Clearing Needs in Winnipeg, MB?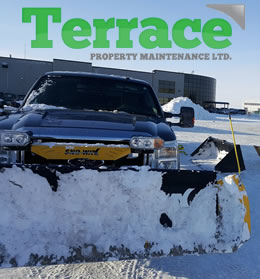 When you choose Terrace Snow Removal to provide your snow plowing and removal services in Winnipeg you are partnering with a team of professionals who will care for and maintain your property as if it were our own.
You can count on great communication, safe and reliable service around the clock, and fair prices.
Our team takes great pride in the work we do and we listen to the needs of each and every customer as no two properties are alike and we want to make sure you are happy with our services!
If you'd like to receive an estimate for Snow Removal or Plowing Services please give us a call (204) 202-3444 or send us an email through our contact form and we'll get right back to you.